Attractions
If you want to know and explore the village Foinikia, hardly 5 minutes away by foot is found this unique settlement which was nominated by the European Union as one of the traditional villages of Europe.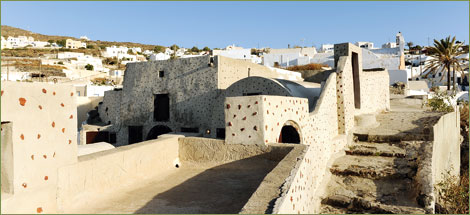 The Traditional Village of Foinikia
There, where the time appears stopped in a previous season, you will have the chance of wandering between closely back street, of admiring the santorinian architecture with the cave houses, the vaulted roofs, the very small windows, the cute little balconies, of lighting a candle to one of the small churches, of trying the local cooking in the unique tavern where they serve local wine and finally leave from this village with a pleasant recollection and a nostalgia of other older years.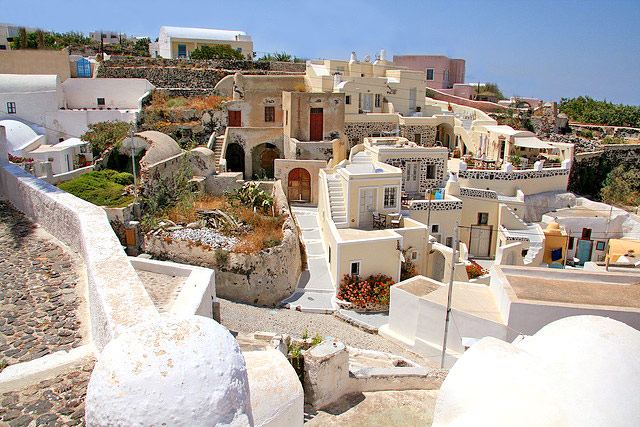 The Traditional Village of Foinikia
And when the sun is getting close to its west, worth to walk 10 to 15 minutes in order to visit the most impressive village of Santorini, Oia. The words are never enough to describe its beauty. The photographs can never show its greatness. The locals can never express their pride and their love for this place. You can start from the pedestrian path that crosses all the village, embraced from traditionally shops, imperial hotels, luxurious restaurants, romantic cafes and reaches the end of the island, the castle Goula where all the visitors are assembled in order to enjoy the unique moment of the sunset. It is that moment that the romanticism that hides each one of us emerges in order to be framed by warm colours and it is completed with the west of the sun far away behind the sea….
And after the senses have smoothed, it is the right time to let your appetite lead you to a distinguished restaurant or to a traditional tavern, with sea view or not. For sure no matter what is going to be your choice, you will taste from fresh fishes and local vegetables until pastries inspired from all Cyclades and Greece. And of course do not forget to taste one from the many Santorinian famous wines.
If you love walking, Oia will reward you. With the donkeys or by foot you will have the chance of going down the steps that lead from up the village down to the sea, there where you can smell the sea and feel the waves, to the small ports of Armeni and Ammoudi. Beprovided with equipment of fishing or with towels of sea for a plunge in deep water and for sure do not forget to visit one of the known taverns where you will taste fresh seafood cut the same day.
And if our this short description travelled you a little to our village, think if you visit us how much more information and experience you can get with our help and our love to make you feel as a local of our island.